Home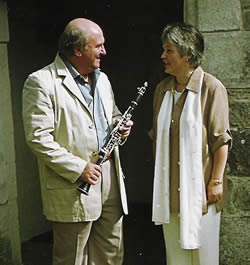 Roma Cafolla with clarinettist
Leslie Craven
Welcome to the web site of Roma Cafolla, Northern Irish composer, lyricist, adjudicator, pianist and 'cellist.
The main body of the site holds details of many of her compositions categorised by instrument group, with the ability to purchase some of them from this site.
There is also a short biography and some details of recent performances of her works.

You can also e-mail Roma at
Latest News
Trinity College London have listed Caffelatte for Gd 7 trumpet / flugelhorn/ cornet in the new syllabus from 2019 and this is available now.

Cantilena has been chosen to be performed at the College Music Society National Conference in Vancouver in October by the university trio of Martin campus Tennessee 
ABRSM have selected pieces from the PLAYAROUND series for inclusion in the new 2018-2021 woodwind syllabii.
Grade 1 flute
Grade 1 clarinet
Grades 1 & 2 oboe
Grades 1, 2 & 3 bassoon
PLAYAROUND SERIES of books available for:
Piano Solo (with attached duets for teacher and student)
Violin
Viola
Cello
PLAYAROUND Easy duets for woodwind (flute, oboe, clarinet, bassoon)
PLAYAROUND Easy duets for strings (violin, viola, cello)
PLAYAROUND Intermediate duets for woodwind (flute, oboe, clarinet, bassoon)
PLAYAROUND Intermediate duets for strings (violin, viola, cello)
PLAYAROUND Easy trios for woodwind (flute, oboe, clarinet, bassoon)
PLAYAROUND Intermediate trios for woodwind (flute, oboe, clarinet, bassoon)
All available as downloads from this web site
Woodwind and Brass versions of Playaround Series Books available for order from Forton Music